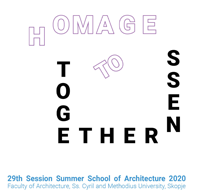 29th Session of the International Summer School of Architecture
Faculty of Architecture | Ss. Cyril and Methodius University - Skopje
Homage to Togetherness
The Faculty of Architecture, Ss. Cyril and Methodius University in Skopje, is just one year before the 30th anniversary of the International Summer School of Architecture. The International Summer School of Architecture was continuously organized for 28 sessions, 28 years in a row. [It was organized even under very sensitive conditions during military conflict back in 2001.] It has hosted more than 800 students and more than 100 architects from all around the world, among which Alexander Brodsky, Sami Rintala, Peter Wilson, Michiel Riedijk and Juliette Bekkering, just to name a few (www.ssarch.arh.ukim.edu.mk). It represented an extracurricular summer activity in form of a unique process of learning architecture through international and creative exchange between tutors and students on a relevant topic.
This year, we faced a big challenge deciding to organize the 29th Session of the Summer School of Architecture in an alternative format. We made that decision based upon a principle that we cannot trade the authentic experience of the temporary collective between the students and tutors at the foot of the beautiful architectural and natural scenery of the Macedonian village of Lazaropole for the recommendations for social distancing and the discomfort of possible risks. However, we made a decision to try this alternative format due to our sincere commitment to underline an important message for the students in this challenging time - the architecture remembers its essential role to represent authentic spatial relations between people and their activities of enjoyment in the public sphere, as our Summer School of Architecture does, a role that wasn't put aside throughout whole architectural history and a role that architecture is giving up just temporarily.
The alternative format of the 29th Session of the Summer School of Architecture will take place in the period between 16th July and 1st September, starting with the launching of international student competition. The competition will be followed by multiple educative activities that should broaden the student perception on the matter of the ways architecture situates togetherness. This content will appear on the website of the Faculty of Architecture, Ss. Cyril and Methodius University - Skopje, and its accompanying social media profiles, in form of synchronous and asynchronous addresses, and an illustrative interactive "Atlas of Togetherness". (www.arh.ukim.edu.mk) (@arh.ukim.edu.mk) (#ssarch2020 #afsukim #homagetotogetherness #internationalcompetition #atlasoftogetherness)
PLEASE FIND THE DETAILED DESCRIPTION AND THE CALENDAR OF THE INTERNATIONAL COMPETITION AND ITS ACCOMPANYING ACTIVITIES HERE.